Clivus Multrum™ CM2 with Chamber Screen (CM2 CS)
CM-02CS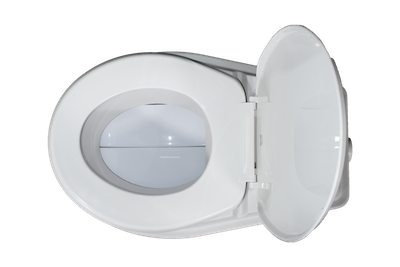 Self-contained Composting Toilets
[tab name="OVERVIEW"]
The CM2 CS is a great 2 person full time composting toilet that is easy to install yourself and just as easy to use. It comes with a chamber screen.
Using the process of simple organic decomposition to break down waste into safe compost, the CM2 produces odourless compost that will smell like rich, dark, moist and healthy garden soil!
The CM2 CS comes with 2 x 32 litre containers (with a 25 litre capacity) that on average will collect about 2-4 weeks worth of material (depending on use).
Key Features:

CM2 complete with Chamber Screen
Compact and self-contained
Easy to install
Low maintenance
Sits directly on the bathroom floor
100% waterless and natural
2 compost chambers are included for 2 people full-time. More compost chambers can be purchased for increased capacity.
PACKAGE INCLUDES:
2 x Composting chambers & lids
White toilet seat & pedestal
12 volt 5 watt fan in housing and transformer
Easy to follow DIY Installation and Maintenance manual.
Starter pack: 1 x 125ml Nature Flush Enzymes & spray bottle, 2 x Bag of Nature Quick Microbes, 2 x Bag of bulking agent and "Who Gives a Crap" Toilet Roll
[tab name="SPECIFICATIONS"]

Capacity

Listed capacities refer to the amount of people, on average, using the unit per day. Do not pick a unit that is below your capacity.

Full time users (Residential/Continuous)
2 People

Weights & Dimensions

(L by W by H)
Unit
620mm L x 395mm W x 500mm H

Materials

Pedestal and compost chambers are polyethylene rotor-moulded. All metal components are stainless steel.

Electrical Rating

Power Usage
12 Volt 5 Watt
[tab name="ATTACHMENTS"]
Download:
[tab name="VIDEO"]
[endtab]
Capacity:Low capacity (Part time use / Up to 4 people)
Certified models:No
UPS (Uninterrupted Power Supply) (10% discount already applied when purchased with CM2 CS) (155.455)